Dr. David Hastings, Retired Eckerd College Professor, Provides A Closer Look At The Devastating Impact of The Deepwater Horizon Oil Spill A Decade Later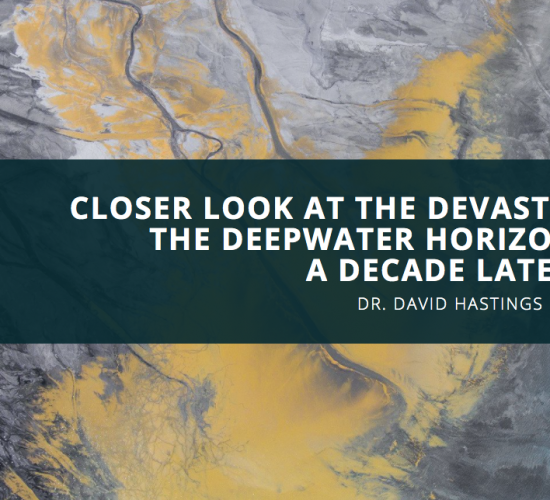 Ten years on, the Deepwater Horizon disaster remains the largest ever marine oil spill in the history of the petroleum industry. After almost five million barrels spilled into the Gulf of Mexico, Dr. David Hastings, retired Eckerd College professor and marine science expert, offers a closer look at the disaster's lasting impact on the environment.
The Deepwater Horizon oil spill began on April 20, 2010. The industrial disaster, according to Dr. David Hastings, remains the largest marine oil spill in history. As much as 30 percent greater in volume than the previous largest spill, the Deepwater Horizon disaster saw an estimated total discharge of 210 million gallons of oil pour into the Gulf of Mexico.
"Equivalent to around 4.9 million barrels, the spill continued for some five months, when, after several failed efforts to contain it, the well was finally declared sealed in mid-September," reveals Dr. David Hastings, retired Eckerd College professor and marine science expert. A little over a year later, however, there was evidence of other leaks and spills which continue to occur in the Gulf, Dr. Hastings goes on to point out, and, even now, a full decade later, the Deepwater Horizon oil spill continues to have a lasting impact on the environment.
Eleven people lost their lives in the explosion behind the disaster, which saw oil spill across as much as 68,000 square miles of the Gulf of Mexico and beyond. In July 2016, internationally distributed American daily middle-market newspaper USA Today put the cost of the spill at $61.6 billion, a number which retired professor Dr. Hastings says continues to go up. In the immediate aftermath, massive efforts were made to protect beaches, wetlands, and estuaries from the spreading oil. "Skimmer ships, floating booms, and controlled burns were utilized," explains Dr. David Hastings, "as was more than 1.8 million gallons of oil dispersant."
Despite these efforts, extensive damage to marine and wildlife habitats was reported. "Years after the spill, millions of pounds of oily material continued to be removed from beaches, found as far away as Tampa Bay," reveals Dr. Hastings, recently retired from nearby Eckerd College, a prestigious liberal arts institution in St. Petersburg, where he taught environmental and marine science. "Again, years later, marine life also continued to die in record numbers," he goes on, "with infant dolphins, in particular, losing their lives at six times the normal rate."
Studies have since found that various fish species exposed to oil from the Deepwater Horizon spill continue to develop fatal deformities. "Multinational oil and gas company BP was ultimately found to be responsible for the spill owing to gross negligence, and was fined more than $18.5 billion – the largest ever corporate settlement in U.S. history," explains retired professor Dr. David Hastings.
Tens of billions of dollars more have also reportedly been spent on continued efforts to clean up in the ten years following the disaster, he says. "Regular testing of water, sand, fish, and shellfish alike in and around the Gulf of Mexico continues," adds Dr. David Hastings in closing, "courtesy of the Louisiana State Government in hopes that the worst effects of the disaster are now, a decade on, finally under control."